Despite that the B2B segment has a significant market share, specific features of B2B communications are still poorly studied. "The modern state of B2B communication in Russia and abroad is still undefined. Russian and worldwide studies of the marketing and PR services market use mainly use generalised conclusions neglecting features of B2B markets," explains Ksenia Alekseeva, an executive partner in the Fresh Russian Communications agency.
Respondent Profile
31% of those participated in the study work in manufacturing companies, the same percentage of participants is occupied in business services, 23% work in IT, 11% work for sales companies and 4% work in construction companies. 10% of the companies are regional, 39% are federal and 51% are international.
55% from 156 respondents specialise in PR, the remaining 45% are engaged in marketing communication. Also 55% are senior managers, and 45% are specialists and managers. Slightly more than half of the respondents (53%) have specialised marketing, PR or advertising education.
B2B Communicator's Tasks
In most cases (36%) B2B communication specialists have to find a way to increase brand awareness and to make consumers remember key information about the brand: its existence, features, characteristics and attributes. 27% of B2B communicators in 2020 aim at strengthening the development of the digital field. Increasing brand, company and leader representation in the media (18%) and product communication (17%) can be highlighted among other prioritised tasks.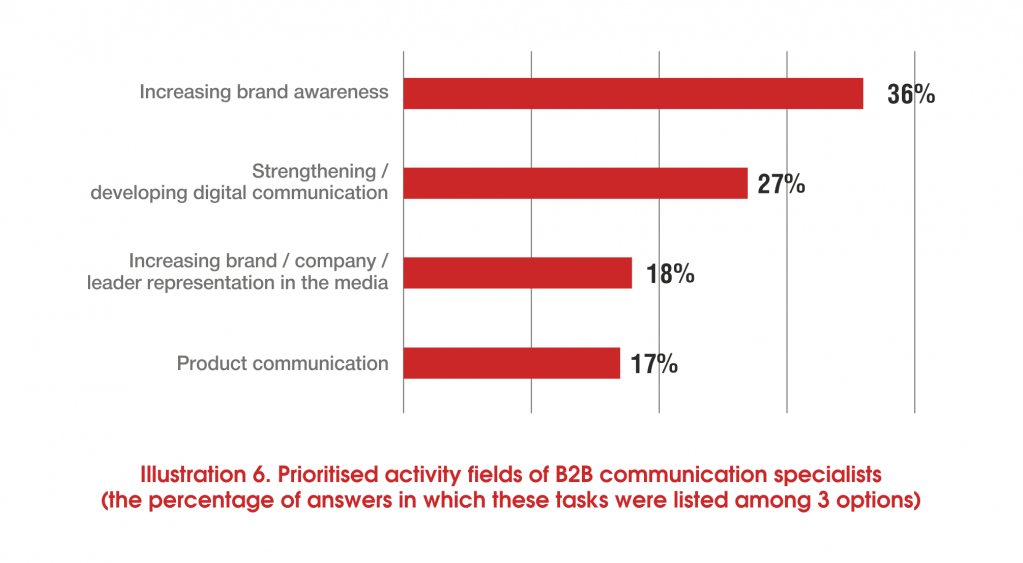 Communication channels
In 2019 there are 4 most important communication channels in B2B communication: the website of a company, the media, events and social media. Marketing specialists, however, prioritise the website and consider it the main communication channel. PR specialists pay more attention to the media.
Most B2B companies work with the industry-specific (84%) and federal (67%) media. 53% address to the regional media, and 22% use the foreign media. 25% of companies asked cooperate with all kinds of the media, and 9% do not use this communication channel at all.
Marketing and PR specialists also called events one of the main channels and listed 3 preferable formats, which are industry conferences and forums (88%), company's private events for clients and partners (85%), and industry exhibitions (70%).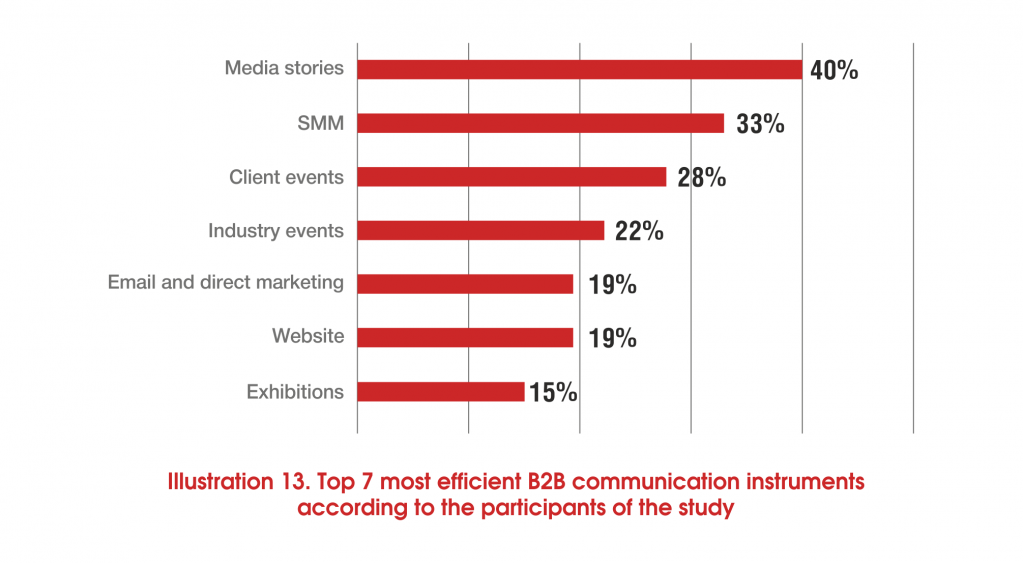 Digital Communication
86% of communicators agreed with the statement "For Digital Future". As few as 6% of respondents (only Russian companies) do not see the need for using digital channels in the B2B segment and prefer to concentrate on other communication channels. All foreign companies representatives have been actively using digital channels or are planning to include them into their communication strategies in the near future.
The top 5 most popular digital channels with B2B communicators are the website of a company, 3 social networks (Facebook, Instagram and VK) and the video hosting service YouTube. More than half (and up to 85% in this case) B2B communication specialists use these particular channels.
B2B Communication Problems
Half of the B2B communicators said that the lack of budget resources is the main problem, and in international companies it happens more often than in Russian ones. In might be connected to the fact that large companies allocate a certain percentage of its profit for marketing, and when the situation on the market is difficult, the budget of a communication department shrinks.
The second popular problem in the field is high market competition. 42% of communicators experience difficulties getting attention of their target audiences because nowadays any company, no matter how large or small, in almost any industry has access to communication instruments.
22% of respondents called the lack of professional staff their personal pressure point. At the same time, more than half of respondents admitted that in B2B communication it is difficult to find decent specialists. The lack of creative ideas and poor quality of contractors' services were also mentioned among common problems.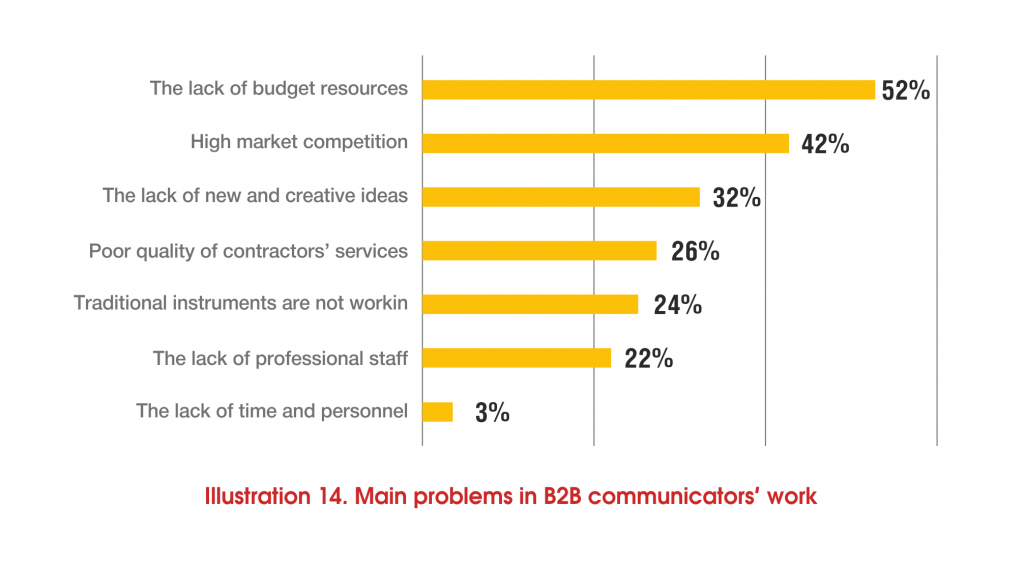 In Conclusion
The study helped draw a full picture of the modern state of the Russian B2B communication field, find paths for development and discover B2B communicators' pressure points. The Fresh Russian Communications agency is planning to continue studies in this field.
You can get full results of the study by sending a request to moscow@frc-pr.com.
The study was held from May till November, 2019, by the communication agency Fresh Russian Communications with the assistance of the marketing agency B2B Research.
Contact us: moscow@frc-pr.com, +7 499 270 60 41